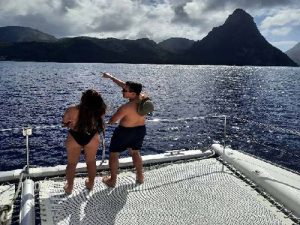 EXPLORE SOUFRIERE BY SEA 
Cruise down the island's scenic west coast to the historical French town of Soufriere; a few minutes' drive
south of the town will take you to the number one tourist attraction site in St. Lucia; the Drive-in- volcano!
You begin with a guided tour of the park followed by the popular Mud bath! Allow your body to soak in the
black healing volcanic waters and cover up with volcanic mud that leaves your skin feeling silky smooth; as we
say, makes you look and feel 10 years younger! The next stop is the Toraille waterfall before being driven back to
the boat. Lunch will be served onboard before cruising back up the coast for a stop to swim or snorkel as you
desire. Partake in cold drinks while enjoying the music of your choice and relaxing while cruising back to your
resort.
Days: Monday- Saturday
Time: 10: 00 a.m.
Include: Transfers, boat trip, entrance fees, drinks, lunch, snorkeling gears, guide