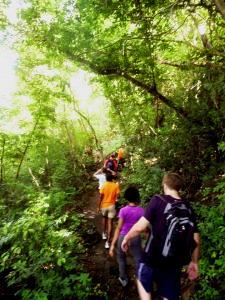 GROS PITON HIKE ADVENTURE (by land) 
St. Lucia boasts three main peaks, the Gros Piton being the second tallest and most hiked! This tour takes you along the west coast to Soufriere and at the base of Gros piton where a tour guide awaits you for a private tour. The hike lasts approximately four hours and is strenuous. Great views of neighboring islands, Petit Piton
and the Caribbean Sea can be seen from different locations on the hike. Ice cold drinks will be served after your hike. Lunch will also be served before returning to your resort.
Days: Monday- Saturday Time: 7:30 a.m.
Hike only or Hike with Mud baths
Include: Transfers, fees, drinks, lunch and private guide
Special note: This hike is extremely strenuous and is not recommended for anyone with physical disabilities,
heart, knee or breathing problems, recent surgery and pregnant women.